We're coming at you with a big announcement today, peerfitters. You might have heard through the grapevine (meaning, we briefly mentioned it here), or noticed a change in your dashboard, but we're excited to share that Peerfit is now a MINDBODY partner!
Studios: looking to join the Peerfit Premium Studio Network? Click here to learn more!
With half of the total number of Peerfit Premium Studios using MINDBODY class reservation software, the user experience has transformed as a result of this partnership. Now, peerfitters can book directly into the systems of MINDBODY partner studios, without having to leave the Peerfit site.
Before we dive into exactly what this means for peerfitters and Peerfit Premium Studios alike, let's chat about what exactly MINDBODY is.
About MINDBODY Online
MINDBODY Online is the leading booking software in the wellness business sphere. Their online software and smartphone application give users the freedom to book or cancel fitness classes (or other wellness services) whenever they want.
In addition to booking capabilities, MINDBODY also offers user features such as FitBit syncing abilities and user reviews and ratings.
As it relates to us, Peerfit, MINDBODY is giving you a much simpler reservation experience. This leads us to our next point.
What Peerfit + MINDBODY Means for Peerfitters
You might have noticed that, for a handful of Peerfit Premium Studios, you must visit their class schedule on their website, which requires you to leave your Peerfit dashboard. As mentioned, since a large chunk of Peerfit Premium Studios utilize the MINDBODY booking software, this partnership allows users to book at said studios without leaving the website.
As you can see in the images below, MINDBODY studio partners' schedules will appear directly in your dashboard after clicking on the studio in our "View Studios" page.
You simply click "Reserve Class", and book your reservation with your Peerfit credits, right there. Simple as that.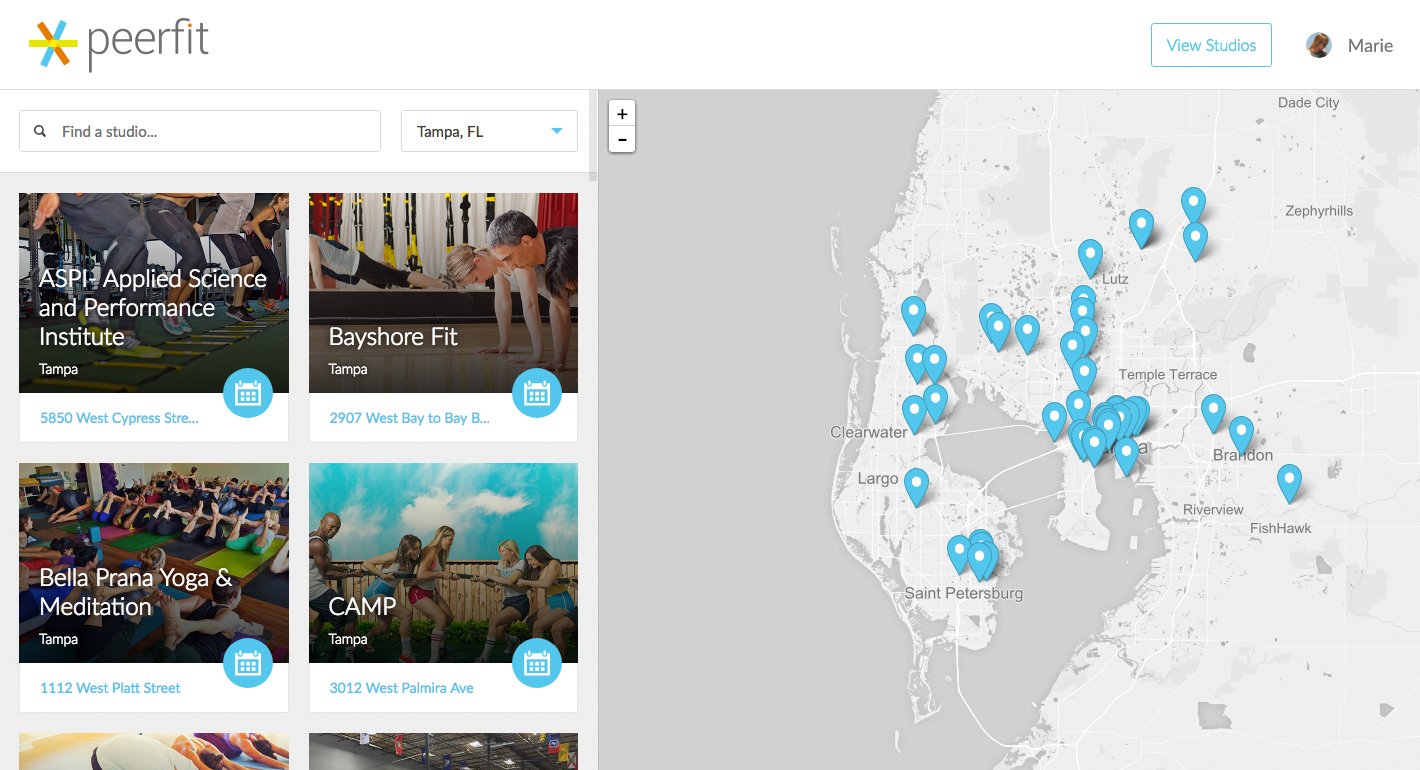 What Peerfit + MINDBODY Means for Studios
Users aren't the only party benefiting from this partnership. Peerfit Premium Studios: let's celebrate, 'cause your experience just transformed, too. MINDBODY studio partners now receive peerfitter reservations straight into their MINDBODY software. Technology - isn't it fun?
On top of that, MINDBODY studio partners are given the ability to store client information such as visit history and photo identification, making it easier to call peerfitters by name (which makes a world of a difference in the customer service realm).
What Peerfit + MINDBODY Means for Corporate Wellness
While studios and users may feel like they are directly benefiting from this partnership, our corporate wellness clients can also benefit! With this partnership comes the ability for us to scale our networks much quicker across the United States. No matter where an employer lives, we can serve them. How's that for personalization?
We are thrilled to be sharing this news with you, and to be making your Peerfit experience that much more enjoyable. Learn more about the ins and outs of our partnership with MINDBODY Online - click here.