Instructing classes, managing employees (and maybe a studio), curating playlists, paying the bills, answering emails, Facebook messages, texts, voicemails, and smoke signals… well maybe not the last one.
What do all of these things have in common? They keep you busy from sunrise to sundown, and probably a bit before and after the sun cycle.
Just like our students/clients/athletes, we occasionally "plateau". We get it, you're exhausted, or you're just really busy. Here are some community event ideas for your studio/gym/box that will keep you progressing, and won't require you to hire a party planner… (however, I will accept payment in the form of mini doughnuts).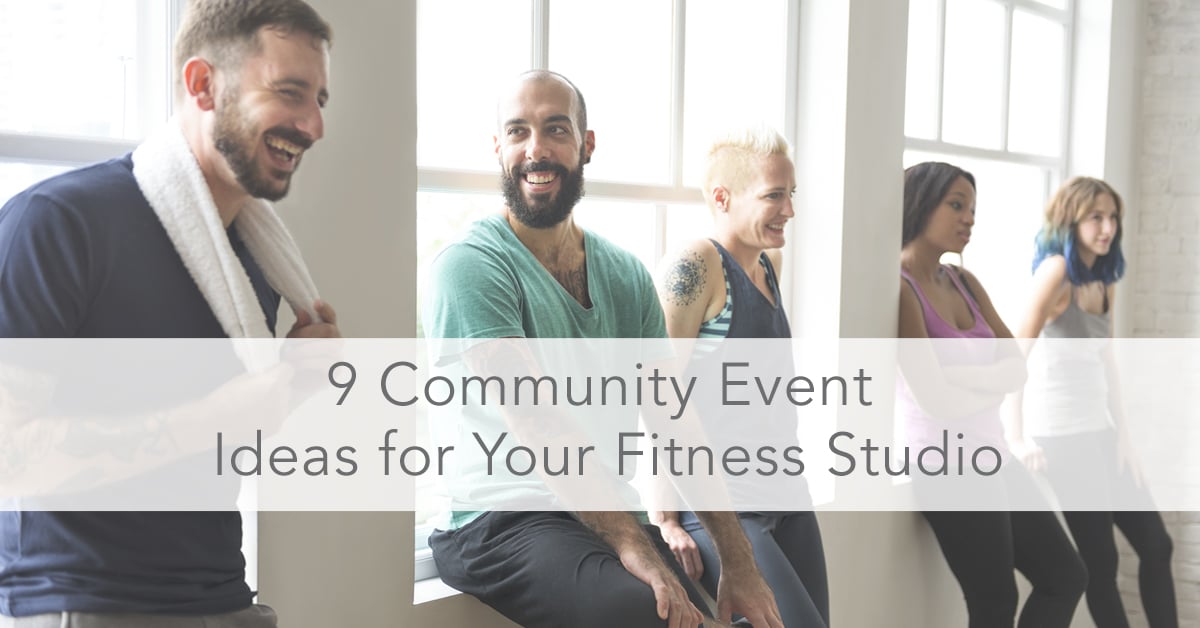 It's not big and scary
Own a yoga studio? Meet us on the mat!
Hold a workshop with all of your instructors. Encourage your students to bring their friends that are hesitant about trying yoga. Show people how yoga can lead to a more purposeful life. Show them that it's more than just a practice on a mat, that it comes in all forms, and that it truly is for every BODY and everybody.
CrossFit? Break down the box!
Have you ever had an athlete that wasn't first intimidated by CrossFit? Host a workshop that debunks the common misconceptions out there about CrossFit like the age old complaint, "I don't want to get bulky". Invite your athletes to bring their most anti-CrossFit friends they can find, and then have some fun with it.
[Tweet "9 Community Event Ideas for Your Fitness Studio"]
Focus on the larger picture
Body positivity and self love.
Have you ever considered hosting a life coach in your studio? Someone who focuses on body positivity and can help guide your students in the practice of self love. We do a great job as instructors to try and focus on creating a safe space to share and applaud our students/athletes/clients for their success in the studio, but can we dig a bit deeper? "Like the moon we are all made of light and shadow" - encourage your students to explore both sides, because broken sides are beautiful, too.
Book club.
'The Untethered Soul' is not always the easiest book to get through- yes, I threw my book once or twice, no judgement please. I let it "pass through me". Form a book club in your studio that focuses on uniting the collective and elevating each of your students. At the end of the day, 'You Are a Badass' - yes, I'm giving you book recommendations.
Bring in the Big Guns
Guest instructors.
Every sport/exercise specialty has their celebrity trainers, instructors, yogis etc. Yes, think Lagree queen Bethany Meyers (if only I were so graceful on a Megaformer), yogini guru Seane Corne (have you ever been adjusted by a unicorn in yoga? She's the closest thing to that, speaking from personal experience), and CrossFit machine Christmas Abbott (I would choose her to be on my team for the zombie apocalypse).
Invite them out for a workshop in your community and promote their classes months in advance. Hosting a workshop with a big name instructor can help promote your studio and draw in new students, athletes and clients. To promote, leverage your social media platforms and include it in your monthly newsletter. Don't forget to capture the goodness on a Boomerang after!
How to Increase Class Attendance as a Fitness Instructor
Dieticians.
We really are what we eat. A lot of the time clients/students/athletes alike think that the work begins and ends in the studio/box/gym… FALSE.
Diet and exercise go together like macaroni and cheese, but we probably shouldn't eat that everyday. We may know that counting calories and watching portion sizes will help us lose weight, and we probably aren't as aware of where our calories should be coming from. Bring in the expert to help reinforce that these changes are a part of a lifestyle and not a temporary diet.
Have fun - Host Specific Classes
Themed classes.
Choose a theme, curate a playlist and watch it all unfold. I once taught a Taylor Swift-themed class, including all of her ex's. Let's "shake it off", serve up any and all remaining garbage your ex or anyone else ever left you with, and end it "my way"... see what I did there?
You can choose anything from Battle of the Queen's- Beyonce v Rihanna (there is only one Queen B, yes, I just shared my opinion on this important matter).
Donation-based classes.
Host a class that is completely donation-based with proceeds benefiting a local charity or cause. Not only will you be expanding your outreach, you'll also feel really good about it. We must first give in order to receive.
Class, and then…
Wine Down Wednesdays - exactly how it sounds. Wind down with a little bit of yoga, and then pour a glass and toast your clients/students/athletes over a glass of pinot noir. "Bar after the Barre" - a little bit of lifting, a little bit of tucking and maybe a little bit of adult beveraging?
Not all events have to be at level 100. Maybe you use these ideas, or maybe you create something completely different. You know your community better than anyone else, listen for what the people want, and trust your gut. At the end of the day, keep it simple. If all else fails, crank up the music, allow the green juice to flow, and be yourself.